---
DENTS AND SCRATCHES SPOILING THE LOOK OF YOUR EXPENSIVE CAR? FEEL EMBARRASSED TO DRIVE ON THE ROAD?

NOW REMOVING DENT HAS BECOME EVEN EASIER! NO MORE EXPENSIVE CAR WORKSHOP REPAIRS. "DR. DENT REMOVER" IS HERE TO SAVE YOUR DAY!

No Longer Have to be Back-Breaking Work! 



 Why do people love Dr, Dent Remover?
[Highly Convenient Dent Remover]
Car Dent Remover is Ergonomically Designed and gives the Best Results in Fixing Car Dents. The Aluminum Suction Cup Abs Material of the Suction Cups is Durable And Sturdy. It is Designed to Pull out the Metal of the Vehicle's Body using a Combination of Suction and Force.
[Easy To Use]
This Suction Car Dent Remover features a Single-Stroke pump action for convenience. Anyone can be able to remove dents after taking a little time learning the dent repair process.
[Ultra-Powerful Suction Lock]
 When this suction cup is locked in place, it can lift up to 10 kg of weight. Its Suction Lock is Designed to give you the best results possible.
[Flexible]
This Product is a Great Dent Puller as well as the Ideal Tool for Moving Flat Objects in any Home Garage or Professional Body Shop! It is Safe to be Used on Car Surfaces and Will Not Damage the Paint of your Car.
[Highly Durable and Impactable]
This Suction Dent Remover is made with Durable Handles and an Impact-Resistant housing to withstand work site abuse. Ideal for Home, Shop, Garage, or Workplace.
[SPECIFICATIONS]

Material: ABS Plastic + Natural Rubber Bottom
Diameter: 5.8 cm
Weight: 36 gms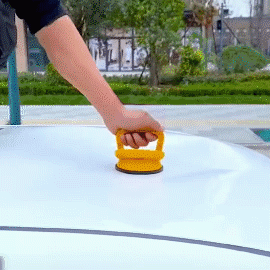 🤩 SO GET ONE FOR YOU TODAY,
AND GIVE YOUR CAR A FRESH NEW LOOK!